I've been trying to do REALLY FUN things with the monkeys as much as possible lately. I realized that, if I'm going to be a stay-at-home-mom, it has to be about US — not JUST about them. Because if it's JUST about them, NOBODY is benefiting. The happier mama is, the happier EVERYONE is.
So, we were lazing around on Sunday, and I decided we should BAKE MUFFINS! I could teach the monkey a little something about baking, AND we could all enjoy a HEALTHY alternative to the Halloween treats still sitting on our kitchen counter….
The recipe for these muffins was adapted from one of my favourite cookbooks right now, Nutrilicious: Food for Thought and Whole Health. I didn't have any syrup, so I used my favourite natural sugar alternative, Agave Nectar, instead (which, BONUS, is lower on the glycemic index). I also felt the dough turned out a little dry, so I added more rice milk. The rest is pretty close to the original recipe. OH! Except for one more thing. The author calls for ALLSPICE. I would strongly advise using cinnamon instead. I have no idea why she chose allspice. Blech!
Other than the allspice, the muffins turned out GREAT! Nice and dense and filling and extra sweet because of the raisins…. AND, they're super HEALTHY: high in fiber and a source of omega 3's, baby! AND, NO ANIMALS WERE HARMED IN THE MAKING OF THESE MUFFINS…. Love….
And, by the way, even though it says they're optional? The SUNFLOWER SEEDS AS GARNISH is a must! They add both a satisfying crunch and necessary nuttiness!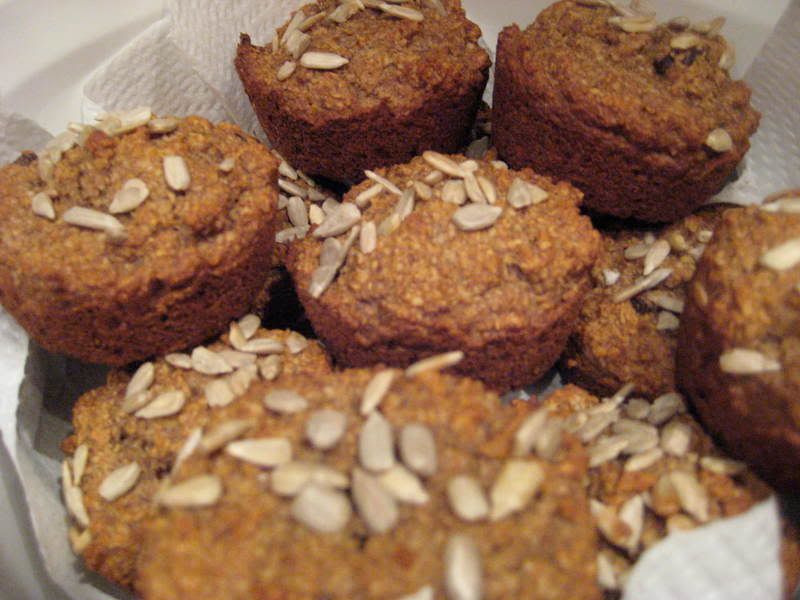 INGREDIENTS
(Makes 12 yummy muffins)
2 tbsp ground flax seeds (buy them whole and grind them with a coffee grinder before use)
1/4 cup unrefined vegetable oil (I use Canola)
1/4 cup pure maple syrup OR agave nectar
3 ripe bananas, mashed
1/2 cup rice milk (or, I would think, any milk alternative)
1 cup whole spelt or whole wheat flour
1 tsp baking soda
1 1/2 tsp baking powder
1 1/4 tsp ground allspice cinnamon
1 cup oat bran
1/2 cup organic raisins
Sunflower seeds for garnish, NOT OPTIONAL
INSTRUCTIONS
1) Preheat oven to 375º F.
2) Grease muffin tin so muffins don't stick, and set aside.
3) In medium-sized bowl, pour in the oil, syrup/agave nectar, bananas and rice milk. And, STIR IT UP!
4) In larger bowl, pour in the ground flax, flour, baking soda, baking powder, cinnamon, oat bran, and raisins. And, MIX it up!
5) Pour the liquid mix over the dry mix just until the two are blended.
6) Fill the muffin tins with the mix.
7) Sprinkle the muffins with sunflower seeds.
8) Bake for about 20 minutes, or until a toothpick (or knife) poked into the centre of the muffin comes out clean.
The author of Nutrilicious, Edith Rothschild, says these freeze really well! So, place a bunch on the kitchen counter (covered if storing for more than a day), and pack the other bunch in an airtight container and freeze.