Hi Gorgeouses! I hope you're enjoying the holidays!
As New Year's approaches, I'm really thinking about my resolutions. Of course, most of them have to do with my diet. And, one of the resolutions I've made already — early! — is to have a healthy breakfast every day. NO MORE STARBUCKS CHAI TEA LATTES. HOLLAAHH!
So, for about 3 days now, I've been having a HEALTHY smoothie every morning. This means that, by morning, I've had at least 2 fruits and maybe a, erm, VEGETABLE! That's a GREAT plan for making my quota of 5-10 fruits and veggies a day! I also like to sneak in some flax oil — maybe a 2-3 teaspoons — to ensure I get my omega 3 fatty acids (the vegan way). Omega 3 fatty acids are essential for everyone. So, if you're not a fish eater, you might as well sneak some organic flax seed oil into your diet, and a smoothie's an excellent place for that.
My morning smoothies are usually a mishmash of things. Here's what I blended up today:
1 cup Fortified Rice Milk (this helps me get the nutrients I need as a non-milk drinker)
1/2 Frozen Banana
1 cup Frozen Blueberries
1 tbsp Flax Seed Oil
1/2 cup Frozen SPINACH
1 scoop of Hemp Protein Powder
I couldn't even TASTE the spinach. It was fab.
I actually try to put pureed spinach in anything and everything…like these banana-chocolate-chip muffins I made yesterday: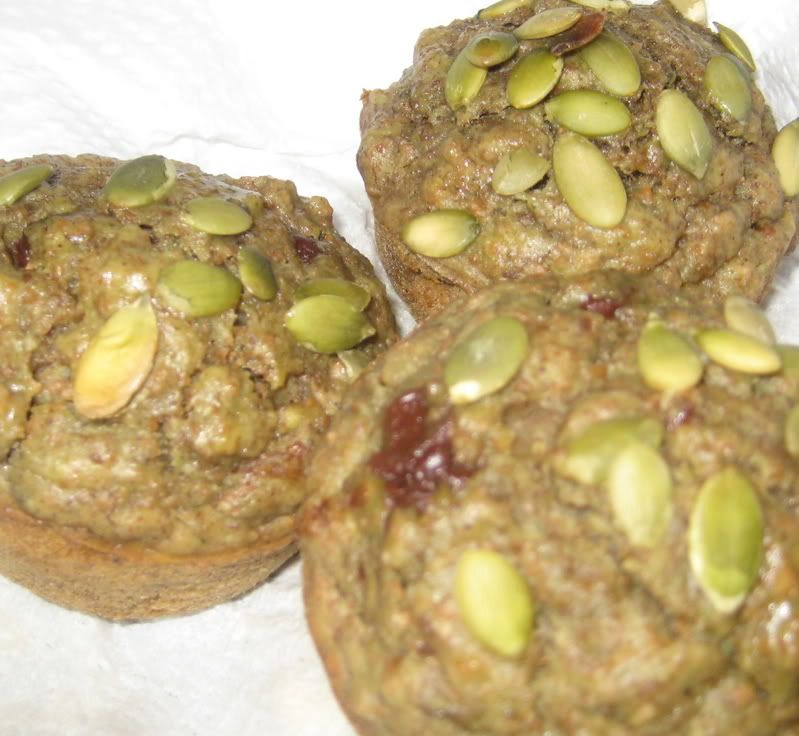 You can see a TINGE of green. But, I assure you, the kids (and JOSH) tasted no spinach. They had no idea it was in there MWAHAHA! And, they've been devouring them! I'll give you the recipe soon. I'm just obsessed with muffins — because they're so easy to bake. And, this blog is turning into MUFFINS GALORE! In fact, I'm thinking I should rename it CHEATY MUFFINS. But, there's something not quite right about that…. By the way, the pumpkin seeds? Purely aesthetic. They help diffuse the green….
So, there you have it. We're drinking smoothies daily to start the day off right. No more Starbucks mornings. I'm so dunzo with that. We'll see if I can manage to sit and read there with a mint tea…. Not as exciting, but, you know….
Do you have any dietary resolutions? Please share in the comments!
Love!
xo Haley-O